After years of considering a dental makeover, Sarah finally decided to go ahead with her treatment. In this article we discuss her journey.
What was the point when you decided to have dental treatment?
I had wanted dental makeover for a very long time, because I lost confidence in my smile, and felt self-conscious. I then spoke to a friend, whose father had used VitalEurope, and being reassured, I felt that it was possible to get a consultation – I had nothing to lose. My teeth were in a bad way and not in good shape. I had always gone regularly to the dentist but it seemed I needed more and more doing with each visit. I grind my teeth whilst sleeping and had also an old crown at the front, but the other tooth next to it had gradually chipped and was getting shorter. Something had to be done before they all fellout – it was like now or never!
Why did you choose VitalEurope?
It was personally recommended, and I had done a lot of research myself on the internet. My mother and I had previously visited Budapest about 5 years ago and stayed in a hotel on Margaret island. In the hotel, there was a thriving dental practice, so I became aware that Hungarians were specialists at dental work and people from other countries visited specifically to get their teeth done.
What were your initial thoughts after the consultation, after you received the treatment plan in London?
I was pleased about the fact that everything was possible with a single makeover (1 visit to Budapest). I also had to consider how I could afford it. Spending money on yourself is hard to do, especially if you have a family, children and other responsibilities, but I decided to go for it – I was so excited!
Did you feel anything during the treatment? Any pain or discomfort?
No…I mean, yes (laughs). I won't lie. I'm not afraid of dentists; it's not like that I came with a massive fear. I'm okay with dentists, but I knew in my head, it was going to be painful. I already had sensitive teeth, so I know what that was like. Injections are never nice, but I was informed what was happening, when it was happening, what they were doing and why are they doing it at every step. I felt reassured all the way along. The receptionists told me gave me my itinerary and length of appointments, so I was very well informed. It was hard at times but it was totally worthwhile.
Was it worse or better than what you expected?
I think I was naïve. You see, I knew that an entire makeover would happen over 12 days, but I think I just hadn't genuinely wanted to think about what was going to happen. I think I blocked the process out a little bit, and just thought all right, I'm going for it and took it day by day.
How many teeth needed to be replaced, and in which positions?
All of them. In the end, I had one extraction in London, and one extraction here, and then all of the teeth were filed down, and all of them replaced with crowns and bridges.
How long was your treatment?
My treatment was long due to Covid-19. I had my first extraction in September, and then I had to wait for flights. I was going to come earlier, around March instead of June, but all the flights got cancelled. Covid most definitely didn't make it easier, but at least no one could see my teeth because of the mask.
I would also like to add that David was excellent at following up; he was great with these little reminders, it really helped me focus. He was very helpful and accommodating.
What would you say to those, who are still considering starting their treatment?
I'd say put aside any fears and go for it. It's the best thing I've done in such a long time. I knew that if you are afraid of dentists, you have lots of different things to help. I wasn't, and I know that I can trust you. Also, Dr Dudas is such a perfectionist, and he is so gentle and caring. Precision wise, he just won't let anything go wrong. I'm a bit of a perfectionist, and I recognized that in him. He's fantastic, couldn't recommend highly enough.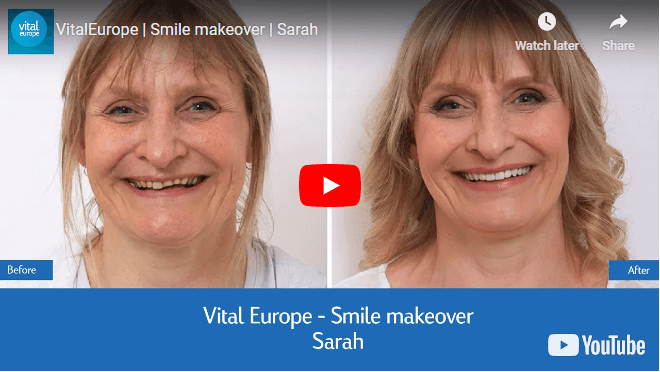 And how did you like Budapest?
Loved it.
I am definitely going to come back again but hopefully not for any more treatment!
Post-treatment thoughts:
Since arriving back, I could not be happier. My self confidence has grown immensely. It took a little while to get used to the fact that I didn't need to hide my teeth or the continue to smile with my mouth closed. Having been self-conscious for so long, I had not realised how inbuilt the teeth hiding had become. I then went through a crazy few days when I was thinking people were looking at my lovely new teeth so hid them but now I just forget and am smiling without any thoughts at all! My friends comment upon how natural my teeth look and are all jealous – my reply, go and get yours done at VitalEurope!
Due to the increased wearing of the teeth, Sarah had a deep bite. This intercuspal position (ICP – the position where the upper and lower teeth are maximally meshed) was nowhere near the ideal centric occlusion (CO – the ideal position of teeth), which caused the lower face profile to shorten, causing aesthetic issues. Fixing the teeth and the bite was required to solve all the issues. We used crowns on both upper and lower jawbone. The correct bite was achieved during the process. We used Prettau crowns to achieve the best aesthetic results for this makeover. Tooth number 17 (upper right 7) had to be removed due to a periapical periodontitis (inflammation around the apex of the tooth). For the crowns we took analogue and digital impressions as well.